Victor Tkachenko is a painter of Ukrainien origin, now living in Canada. His acrylic paintings present bold patterns, elongated lines and geometric shapes with which he creates mysterious and melancholic compositions. He sometimes enhances his paints with ink, industrial materials such as varnish or plaster to add texture.
Sort by
Featured

Best selling

Alphabetically, A-Z

Alphabetically, Z-A

Price, low to high

Price, high to low

Date, old to new

Date, new to old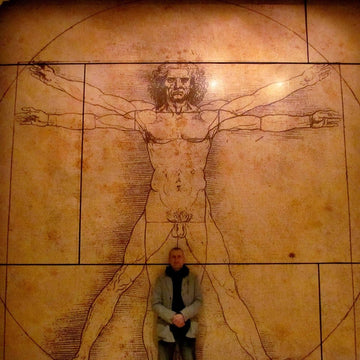 Victor Tkachenko
Victor Tkachenko, born in 1960 in Krivoy Rog, Ukraine, is an artist currently living and working in Toronto, Canada.
Victor received professional art training beginning at age ten and was one of few graduates to complete the extensive and rigorous program from the well-renowned Art School in Krivoy Rog.
Working primarily with acrylic on board Victor Tkachenko displays a mastery of line and colour through purposeful brushwork and a palette dominated by rich earth tones thickly applied to the ground. The physicality of his work is enhanced with accents of ink and, intermittently, the addition of industrial materials such as varnish and plaster.
​Throughout the various stages of his work, Victor's figurative forms are drafted with elongated lines, exaggerated features and geometric patterns that recall the hand of Amedeo Modigliani and Gustav Klimt accented with a subtle cubist aesthetic.
While early paintings such as "Swing" are recognizable for their use of solid line and bold colour that refer to Byzantine mosaic work or stained glass, his oeuvre is grounded, broadly, in symbolism and expressionism. Dominating his art are planes of soft light which intersect and overlap, objects and figures emerge from a dreamlike atmosphere of harmonious colour while emotion and meaning are conveyed masterfully through bold pattern and vivid line.
​
The embrace of two figures in "Kiss" captures, simultaneously, the intimacy of a single kiss between two lovers and the universal emotion – the tenderness and passion – of love. The feelings of melancholy, of mystery and wonder that persist in Victor Tkachenko's work recall the style of Odilon Redon and Gustave Moreau and yet are uniquely situated in his hands.
​Victor's work can be found at galleries and private collections all over the world.