Stéphanie H., a self-taught artist holding a degree in business administration and driven by a deep passion for nature, has been skillfully practicing the profession of a visual artist for many years. She delves into a variety of mediums to give life to her imagination, crafting artworks that are rich in both subtlety and vibrant color.
Sort by
Featured

Best selling

Alphabetically, A-Z

Alphabetically, Z-A

Price, low to high

Price, high to low

Date, old to new

Date, new to old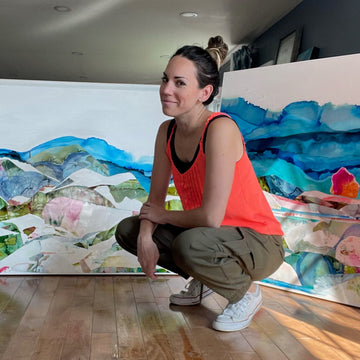 Stéphanie H.
Stéphanie H. firmly rejects anything that feels restrictive and linear. Instead, she wholeheartedly embraces the spontaneity of creation, allowing her emotions to guide her. Abstract art is her preferred medium, as it enables her to follow her instincts and intuition without limitations, which she considers to be her most reliable guides. Although she once specialized in black and white realism, over the years, she has explored a wide range of artistic mediums, occasionally revisiting them based on her mood.
Among her artistic preferences, acrylic and mixed media hold a special place, but her true affection lies with alcohol ink, known for its unique color vibrancy and rapid drying time. This allows her to explore her works with profound satisfaction. When she works with this medium, she feels liberated to view each piece as a new adventure, avoiding any preconceived plans. The subjects depicted in her artworks symbolize the freedom of expression, balance, and the harmony of nature.
As an artist, her objective is to captivate the viewer, offering them a moment to pause, breathe, and embark on a journey through the myriad of colorful universes she presents. When her paintings ignite the viewer's imagination, a deep connection is established, breathing profound meaning into the art.
Today, Stéphanie H. takes great pride in the widespread popularity of her artworks, which are now sold across Canada and the United States. She has graced numerous art galleries with her exhibitions and has garnered a loyal following of enthusiastic supporters.