Martine Cloutier is a Quebec artist based in Thetford Mines, Quebec, Canada. She is inspired by the natural landscape of the Appalachians, which is the central subject of her work. With oil paint and a spatula, she represents by impasto peaceful atmospheres, although green with life.
Sort by
Featured

Best selling

Alphabetically, A-Z

Alphabetically, Z-A

Price, low to high

Price, high to low

Date, old to new

Date, new to old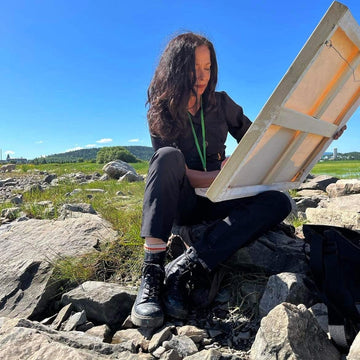 Martine Cloutier
Born in 1965 in Black Lake, Martine Cloutier has worked in Thetford Mines in the Appalachian region for over 20 years. She has done several solo and collective exhibitions.
Martine Cloutier has won several awards for the quality of her work.
She is a member of the Institute of Figurative Arts (IAF).
Martine has been interested in nature since a very young age. She likes to paint subjects in a very refined way with a touch of abstraction, revealing details but in a simple and bare manner, bringing out the essential. She likes to work atmospheres and colour in a subtle way.
The structures of her compositions are simple and full of movement.
The texture created by the spatula, define her art well, giving visual effect, a certain impression of quiet strength.
Artistic approach
Martine defines herself as a contemplative, silent and impregnated painter. Her passion and a certain ardour, are represented by movement in her works.
The drawing
It is her first love since always and still today by the way. It is at the origin of all her art, therefore of all her paintings. The sketching step is the most inspiring moment for her because she can be in direct contact with nature.Her sketches are very expressive and personal.
The composition
The composition of her paintings is primordial and varies. She prefers oblique composition with close-up and counter-plonged shots. For her, a painting must have a good structure. With all the knowledge she has acquired over the years, she mastered spatial organization and unity in her paintings. Her challenge as a painter it to recompose nature through her artist's eyes. Nature becomes a pretext to create a painting. Composition is the starting point, masses, lines and contrasts are placed and become a creation.
Nature
It's her favorite theme, which resource and inspire her. What she likes above all is to paint simple and true subjects, without ever reproducing them entirely. It is here that the whole meaning of the word "creation" come together, because she interprets what she sees, in a personal and authentic way. When she is in nature, she paints in her head, before painting on canvas, this contact is essential to connect her with her art and makes it alive.
The color
For decades, she has observed, noted and experimented with colours according to light variations, atmospheres and seasons. When she paints she rarely uses the original colour of the landscape, but rather paints of a memory, an emotion felt on the spot, such as the smell, the sounds, the light, the temperature etc…. Thus, the colours of a painting is defined by the atmosphere and inspiration of the moment.
The movement
Her paintings are never static. Combined with colours and technique, the search for movement is the centre of her artistic approach, it is what differentiates her and makes her special. It is natural for her to paint movement, gesture, rhythm and cadence which are what make her works alive and sensual.
The technique
The use of the brush characterizes the first years of her production. Then she experimented the spatula which has made her paintings strong and sensitive, intense and spontaneous, subtle and dense. Her artistic soul is stimulated by research and experimentation. Discovering and growing in her art is her motivation to paint.