Bauçan is a self-taught multidisciplinary artist from Montreal. He gives free rein to his creative instinct when he realizes his geometric abstractions. His paintings are overflowing with rhythm, bright colours and poetry.
Sort by
Featured

Best selling

Alphabetically, A-Z

Alphabetically, Z-A

Price, low to high

Price, high to low

Date, old to new

Date, new to old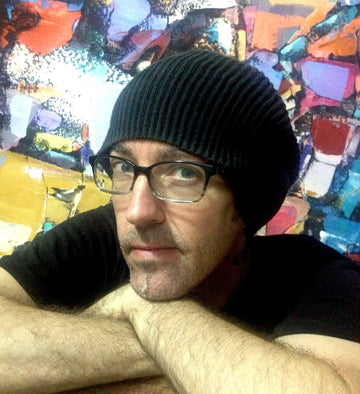 Bauçan
Bauçan, a poet of images, music and words, was born in Montreal, Canada, in 1968. Self-taught, he left college to dedicate himself to his art. In his twenties, he founded with Luc Courchesne the group of artists "Le Cénacle de l'Étendard", who edit and publish poetry books. He wrote and published with them two books as well as participated in many collective works with other poets that have also been published. Inbetween poetry readings, he recorded an album under an independent label and produced a short-cut movie "Le chat a fait de moi un oiseau" with Éric Francoeur as leading man and Jean Cotonnec as cameraman.
Ever eager for adventures, he explored the Baffin Island and hitchhiked across Canada. At 24 years old, during his first trip to Europe, his paintings were exhibited at an art gallery in Pont-Aven, Brittany (where Gauguin once lived). Over the years, his paintings were also exhibited in various galleries in Bordeaux, Dinard, Nantes, Nice, Paris (France), Brussels (Belgium), Cologne (Germany), Kyoto (Japan), as well as in Texas and Chicago (U.S.), and in Calgary, Toronto and Montréal (Canada)… His paintings can be seen in many TV shows and movies like "Beyond Borders" with Angelina Jolie.
At 26 years old, he invented and constructed a 35mm antique-looking camera, made out of paper. After having sold his invention to the Wrebbit Corporation, he travelled for three years, from theCzech Republic to North Africa.
In 2014, after living and painting during more than 10 years in Thailand, he moved to China…
" In the beginning of my career, during 5 years I painted people and landscapes to realize the mind it's the enemy of the painter, the more I think about what I have to do, the more the movements of colors on the canvas have chance to be weak and the more I paint with instincts I can create stronger works. I also realized the lines I drew before was obstruction for my impulse movements of colors, for this reason I decided to paint without drawing or having ideas in mind to be able to create paintings with as much energy and liberty as possible.
Each tree is a piece of art for me, because it gets its energy from nature. It's from this principle that I decided to create with my instincts. Spontaneously without sketching, I throw colors on the canvas, creating different shapes and stains from which I develop an imaginary world.
​
Each of my painting is like a fruit, sometimes sweet, sometimes bitter, sometimes rough, sometimes soft, feeding the eyes and the hearts of those who look at them… "